Sunday of the Passion (Palm Sunday), April 9, 10:30 A.M.
We begin with a Procession with Palms in the courtyard, weather permitting. The liturgy moves from shouts of "Hosanna!" to the reality of what is to come that week as the whole congregation joins in proclaiming aloud the Passion story according to Matthew.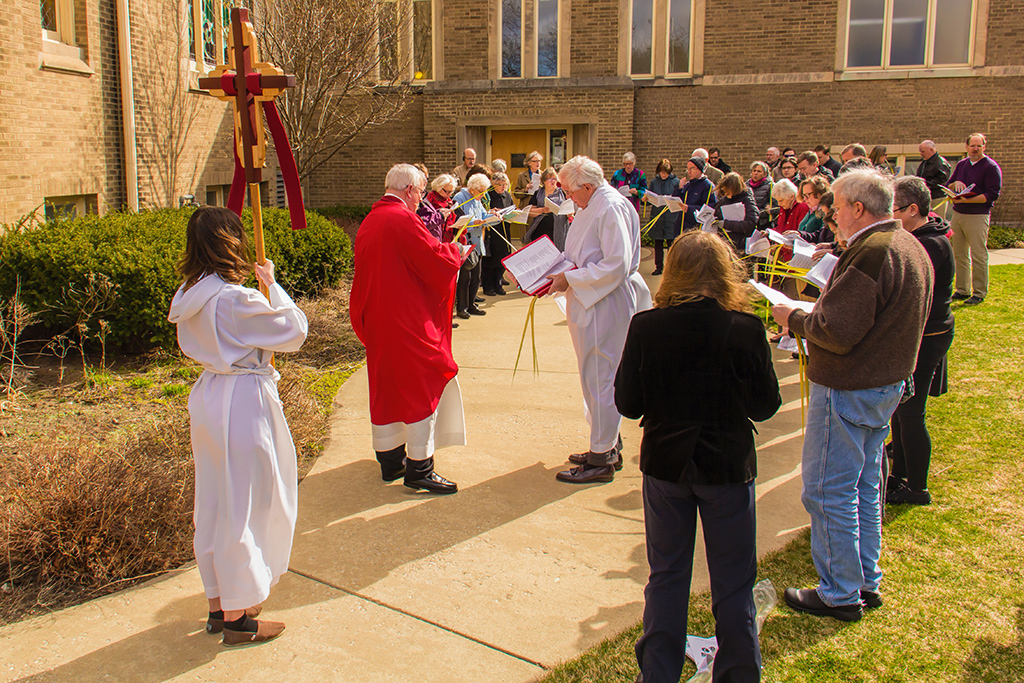 Maundy Thursday, April 13, 7:15 P.M. [Note the time!]
We gather for a shared meal in the Fellowship Hall, just as Jesus' friends gathered for a meal with him. We will receive the assurance of absolution, hear scripture and the word, sing, wash one another's hands as we hear Jesus' new commandment to "love one another as I have loved you," and share bread and wine around the tables, speaking the word of promise to one another, "This is given for you." Then we move from the meal table to the darkened Sanctuary to pray and watch with Jesus as the reality of the Cross looms. We strip the altar of all adornment, then leave to go out into the night.
Good Friday, April 14, 8:00 P.M.
We gather in the barren Sanctuary to focus all of our attention on the Cross of Christ, for "by your holy cross you have redeemed the world." The service this year includes Buxtehude's cantata, Jesu, meine Freude, accompanied by strings. We hear the Passion according to John, pray profoundly moving prayers that acknowledge our need for a Savior, and contemplate in solemn silence the awesome Mystery of our salvation.
The Great Vigil of Easter, Saturday, April 15, 8:00 P.M.
We begin with lighting of the New Fire, then follow the Light of Christ into the darkened Sanctuary, where we hear the story of God's faithful salvation from Creation to Christ, responding to the word with beautiful music and giving thanks at the font as we renew our baptismal vows. Then the festival begins! We celebrate the Great Feast around the Table as we hear the Easter Proclamation, then continue our feasting in Fellowship Hall. Bring goodies to share, if you are able.
The Feast of the Resurrection, Sunday, April 16, 10:30 A.M.
We come in the morning, just as the women came to the tomb, and rejoice that Christ is not dead, but has risen! Our worship this morning will be enriched with stirring music, hearing the word, and celebrating Christ's passover from death to life.